Today, we're looking at a sample library which is very one-of-a-kind. To be honest, it's a type of instrument collection, I never came across until now. With Alpine Volksmusik, Bavarian sample instruments developer Best Service set out to cater for a very unique niche – traditional Austrian, Bavarian and Upper Carniolan folk music.
When I loaded up the instrument and played through the first patches, I couldn't help but having a good laugh. Not because the library was bad or something, it just reminded me of my grandparents, who used to listen to this kind of folk music the whole blessed day when I was a kid.
Now, apart from these childhood memories, I've never had much of a passion for this particular type of music, so testing and rating Alpine Volksmusik was a rather strange, yet very fun experience. Let me share it with you in the following review.
OVERVIEW
Alpine Volksmusik features a very complete range of 24 alpine folk music instruments, including various trumpets, accordions, guitars, winds, percussion and even vocals. Typically for Best Service products, the library is housed within the company's very own sampler VST called ENGINE. With 530 MB in size, Alpine Volksmusik could be considered as a lightweight library by today's standards.
The instrument's interface makes a tidy, easy-to-use impression and with its wooden look, captures the traditional spirit quite nicely. Apart from the mandatory Volume, Pan and Reverb controls, each patch features its own instrument-specific control options. These include legato, key/string noises or registers (for the accordions), just to name a few.
Most of the instruments, like the acoustic guitar, tuba or clarinet feature multiple articulations which are controllable via keyswitches from C1 to F1. The articulations range from various playing styles like staccato or marcato to different chord types on the guitar for example.
SOUND
While playing around with all the patches and articulations, I found it surprisingly easy to create my own little folk tunes from scratch in almost no time. Partly due to the rather simple nature of alpine folk music, but also because of the instrumentt's smooth playability, you'll achieve quite realistic sounding arrangements very quickly. Bonus sounds like the two synth bass patches and vocal FX fit perfectly into the context and feel of the genre.
I wished, some of the instruments had a few more round robins to play faster passages, without hearing the samples repeating too often. This was especially noticeable with the guitar chords patch, where every chord was sampled just once. But since I'm assuming it is designed for occasional guitar strums rather than for playing tight rhythmic parts, it seemed alright.
Apart from most of the sounds themselves, what I really liked about this library, is the love, that was put into the musical topic and the respect towards the recording musicians. This shows not only on the interface's front-end, where many instruments are accompanied by a picture of the respective performer, but also on the info tab, where most instruments are introduced with a little text and the name of the musician. Another neat feature of the info tab is the display of all the different articulations of an instrument and their keyswitch assignments.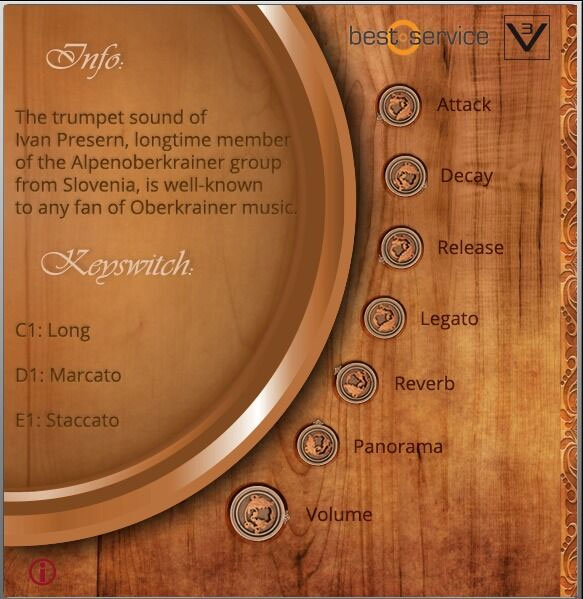 CONCLUSION
Alpine Volksmusik comes with literally every instrument you'll ever need to compose this type of music (they even included alpine cow bells!), which makes it very easy and convenient to dive into the musical topic. Although not every instrument included was sampled in the most comprehensive way (which would have been gone far beyond the scope of the project, I guess), Alpine Volksmusik features plenty of unique instruments, that I have never seen or heard before in any other library.
So even if you're not into alpine folk music, you may find some lovely and special sounds to use in your future compositions. If you think outside the box of traditional folk and Après-Ski music, I'm sure you can even spice up a hip hop or pop track with some of the library's patches. And if you happen to be an alpine folk music producer – hey – what you're waiting for? This is your library. Alpine Volksmusik comes as a downloadable product and is currently at 199$.
Alpine Volksmusik review
Content
Versatility
Performance
Sound Quality
Playability
Price performance