During the past few weeks I have notice a large number of new libraries pop up on the market that try to provide Kontakt users with new, edgy sounds, especially bringing synth sounds into Kontakt. Not that it hasn't been done before, but we had at least three big developers bring out their best stuff in the last couple of weeks. While many sample developers focused more on modern sounds ("dubstep" type sounds, at least, that is how it is advertised), Heavyocity focused more on what they do best; mangle sounds in every possible way to create something new and exciting!
The Aeon collection comes as a bundle of two separate libraries in a 14 gigabyte (compressed) box. It is comprised of Aeon Melodic, which offers 300+ patches of organic and synth sounds and Aeon Rhythmic, which offers another 300+ arpeggiated loops. Both can of course be purchased separately.
Content
AEON Melodic
– 130+ Organic Presets
– 160+ Synth and Hybrid Presets
– 39 Signature AEON Hits
AEON Rhythmic
– 9 Tonal Loop Menus
– 315 Single Loop Presets
– 46 Loop ARP Presets
– 43 Three Loop Combo Presets
While both feature quite a lot of arpeggiated synth sounds, Aeon Melodic also offers some of the more unique, organic sounds heard today. All the organic sounds are deep-sampled, multi layered round robins. Most of these are by default made from three layers (two are usually purged on load) which will enable you to shape them anyway you want. Each layer can be modified inside Aeon via standard effects (Envelope, EQ, Filter, Level, Pan and Tune).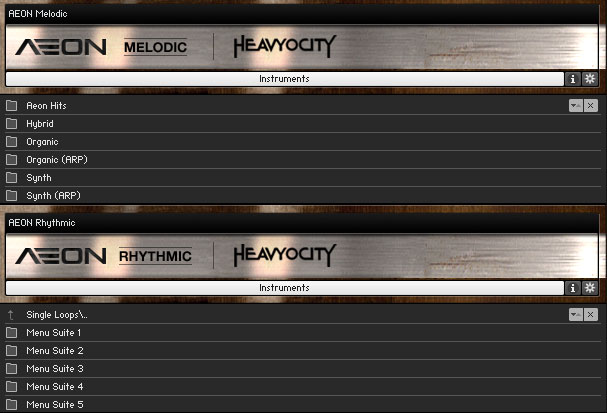 Sound
Sound is where Aeon is shown in all of its glory. The people behind Heavyocity made sure we got only the best. Damage practically redefined percussive libraries and, while I can't say that Aeon redefined synth sound, it is still one of the best sounding Kontakt libraries out there. Its sound is aggressive when it needs to be and soft for those other times when you need something more subtle (the organic samples really provide a lot of possibilities). Just listening to the presets will inspire you to make more music.
Graphic interface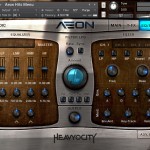 Like I have said in my first impression post, I am not a big fan of complex interfaces when it comes to Kontakt, mainly because you can always click that wrench button in the upper left corner of your instrument and tweak stuff there if you need to. However, I don't mind complex interfaces if a certain library needs it.
You will find all of your master effects on the left side of the instrument while on the right you have your volume envelopes (three for each layer and ability to link them). The middle of the instrument is reserved for basic mixing (level, tune and pan) and manipulating the sounds with "Twist" and "Punish".
Twist – A 3-Band EQ for nice additional movement. You can control amount, rate and tone of the sound.
Punish – It is the same as it is with Damage. Basically, it is a compressor and saturator working together to make the sound more gritty.
All of the above mentioned can be found in the first effect tab! In the second tab you have your Trigger effects controls (you can control those with keys on your midi) and the third one has all of the EQs and filter effects.
With all of these effects combined you can seriously tweak everything to your liking, but the true heart of Aeon lies within the arpeggiator and so-called "Loop Mutator".
Arpeggiator can be found in the bottom right corner under "advanced performance" (adv. perf). With the arpeggiator you can control the length, velocity and pitch of any sample. In addition you can control the number of steps (up to 16 steps), speed, retrigger, poly or mono playback and detune. Any sound can be turned into a new melodic or percussive sound with this wonderful addition.
Loop Mutator
In the same way you can with Damage, it's possible to control each individual slice of a loop. This is only available with Aeon Rhythmic. Along with the ability to quickly drag and drop slices into your DAW, you can manipulate Tune, Pan and Level for each loop/slice. You can also allow Aeon to randomly select different settings for you, which may lead to some interesting and happy accidents.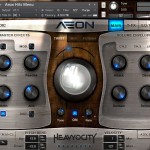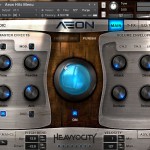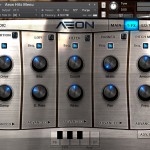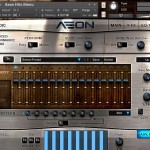 Ease of use
AEON is very easy to use. I haven't checked the manual yet nor did I watch any videos before trying it out. Everything can be found right away. This may be because I used Damage before hand and their interfaces are similar. Having said that, I still recommend that you check the manual if you are a first time user.
Price/Value
Aeon Collection can be purchased for $399 or if you wish you can buy each library separately for $299 (Aeon Melodic) or $199 (Aeon Rhythmic). The price is pretty standard for that kind of library in terms of quality and content that you get. The dilemma comes when you have to decide whether you will buy Aeon or rather another synth and make everything yourself. In either case, Aeon is worth looking into.
Heavyocity Aeon Collection review
An absolute must have for any Kontakt 5 user.