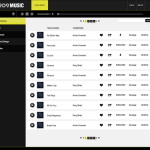 We were recently informed about a new website 909 Music that will allow licensing music to potential clients. This is a brand new website that offers quite a few benefits. Below you can find more details.
909 Music is a music production company and an online music library dedicated to licensing, producing and providing modern day, cutting-edge, quality rich music for media and avid music listeners worldwide. 909music.com encompasses tracks from modern day genres specific for slick media content and are available for licensing right away.
Audio Library
The ever-growing Audio library consists of hundreds of originally produced, quality-rich tracks that are "ready-to-use" for media projects or "downloadable" for enthusiastic music listeners that strive to discover fresh new sounds for as little as $100 a year
Production Company
Our production company is represented by a team of highly skilled music composers and producers with a vast background and wealth of experience in several different genres of music dedicated to producing high quality music for Ads, Films, Video Games, Radio Programming and Music Profiling for various venues.
Music Sharing Platform
909music.com is a music portal based on the web 2.0 infrastructure that provides its users to freely create their own profile pages on which they can upload their music and share them with the world. Some of the unique features of the music sharing platform are:
1. Bumpp – Share music with your extended network on Facebook, Twitter, and Tumblr by using the share button. Promote your own tracks from your profile page, share your friends' music or the music you like in the Audio Library.
2. Collaborate – Two creative minds are better than one! Find like minded producers and composers you'd love to collaborate with, hit the "Collaborate" button on their page to send them your tracks and start creating!
You can also follow 909 music @ Soundcloud and Facebook