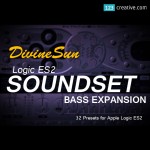 DivineSun ES2 Soundset – Bass Expansion consists of 32 Patches of Earth Shattering Bass, including 8 patches which can be layered up into pairs to give you a Huge frequency range of bass. The Soundset covers a variety of Dance music genres including house, progressive, trance, dubstep, techno and more.
Demos start off with slower tempo genres and finish with higher tempo genres, so listen all the way through to hear the whole range of styles.
Bass Expansion Demo with Kick and Drum Loops – All the sounds you hear in this demo were produced only with the ES2 Presets included in the Soundset, Drum Loops and logic's built-in plugins (reverb, delay etc). Bass Expansion is useful partner for DivineSun ES2 Soundset which we released earlier.
SUITABLE GENRES:
Dance music production including Trance, House, Dubstep, Techno, Progressive
FEATURES:
• Format: *.pst (Synth Soundset)
• Requires: Apple Logic Pro ES2 (Compatible with the ES2 Synthesizer included with Apple Logic versions 7, 8, 9 & Logic
Limited Introductory price: 6.00 €
Price: 8.00 €
Product URL / DEMO:
http://www.123creative.com/apple-logic-es2-presets/996-divinesun-es2-soundset-bass-expansion.html
PATCHLIST:
BS-1998
BS-BigPhatty
BS-Busted Boom
BS-Chopster
BS-ColdHarbour
BS-Cyborg
BS-Dark Hi
BS-Dark Lo
BS-Dark
BS-Excite
BS-Hidden Dragon
BS-Hoover
BS-Italiano
BS-Jack Part 1
BS-Jack Part 2
BS-Kubrick
BS-LaidbackShizzle
BS-October Part 1
BS-October Part 2
BS-PsyTrance
BS-SHM
BS-SickDrone
BS-Squared Part 1
BS-Squared Part 2
BS-Take Notice
BS-Technophobe
BS-Trance Classic Part 1
BS-Trance Classic Part 2
BS-Whistle Blower Fiend
BS-Whistle Blower
BS-Wobbler
BS-Zip Tie